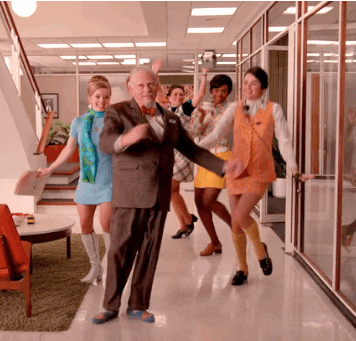 I've been trying to make a living as a writer since I graduated college 8 years ago. Sometimes it feels like forever ago since I was told I did not get the Groupon Coupon Editor job, and I cried inside a janitor's closet inside a South Loop daycare center (one I was inexplicably hired at despite my severe lack of experience and general disdain for infants). Those were dark days. I was lost and demoralized.
It was 2009. Content was not the "brand savior" it is now. The only serious, stable writing profession that felt at all attainable, was copywriting. So I decided, after sinking tens of thousands of dollars into four years as a Communication Major (that I tell people was English), at a liberal arts college, that I needed to become a copywriter. It was the only way I could live with myself, a person who desperately wanted to be called a writer and needed the validation of a paycheck to prove it.
I researched how to get hired as a copywriter and everything told me I needed a portfolio. Without a job to produce the work that would go into that portfolio, I was told my other option was to enroll in a portfolio school. These are generally two-year programs that claim to get you placed at an agency upon graduation.
I'm sure they do. But as a recent grad, in an economic crisis, unemployed in a new city, I couldn't invest anymore money. I didn't want to take out another loan, even though I wouldn't start paying for my undergrad loans until a few years later. These were the blissful and ignorant "deferment forbearance years." Still, I had enough sense to not drive myself further into debt. I'd still look at copywriting job openings but I wouldn't apply.
(Ok but once I did make a book resume out of found images and text from a children's book and it ended up looking like a weird desperate ransom note but I still mailed it to a small production company that did not have any openings listed. Either it made no impression and no one there remembers, or it is an inside joke with the team to this day. Both thoughts keep me up at night.)
I shelved my dreams of having a respectable and lucrative writing career and worked a series of part-time jobs: wiping asses, "growing" organic social media followings, being a recess aide, writing coupon blurbs for a Groupon competitor (because there was enough of a "startup coupon boom" in Chicago between 2009 – 2014 for this to be a thing). Over time I started setting my sights on marketing jobs. They were writing adjacent and they paid at least something, they had benefits and Keurig machines. I kept telling people I was a writer but when they asked what I wrote, all I had were SEO-compliant coupon summaries.
In 2014, after being fired from my first professional marketing job for being grossly incompetent and paralyzed by fear,  I started writing for a popular online publication, Chicagoist (I also started an Etsy store for a few months, remember that? That was fun.) After feeling the most worthless as a writer, as a person not capable of doing adult things like holding down a job, the Chicagoist gig revived me. Now when people asked, I could tell them that I had a byline from a place they'd heard of. But then it didn't pay and it wasn't full-time. It wasn't a job but it did give me a boost of much-needed self-confidence to believe I could be a writer, truly the only thing I have ever been remotely good at.
That fall I started working as a Content Marketer at my current company. What did my job entail? When it comes to content, who can really say? Content is everything and it is nothing! [Insert one of those "What my friends think I do. What I actually do" image grids.] The short of it is, I got to write at least 75% of the time. I wrote a lot of social media copy but I also wrote articles and yes, listicles! This was in 2014, millennials were considered brand saviors.
I learned so much at that job, a ton which had nothing to with my writing. I surprised myself by becoming a person I didn't recognize, for the better. Where I once defined myself by my apathy and that Ben Folds Five lyric I misinterpreted "I know it's cool to be so bored," I emerged as a person who cares, a lot, and I have knack for bringing people together. I had so much latent school spirit it was insane. (This is the point where Jeff says, "You were a student orientation counselor in college. What are you even talking about?" Whatever, Jeff. My blog, my revisionist history.)
Over the two and a half years I was there, I held more informational interviews with our Creative team and I asked more questions about being a copywriter. Still the timing was never right for me to move over and I didn't have the experience I have now. When I moved to New York this spring, my company was able to offer me an interim position as the Director of Marketing at our headquarters in Manhattan. The current director was on maternity leave until September and though they wanted to keep me on board after she returned, they couldn't guarantee me a spot.
While I job searched, I continued to speak with my new Creative team about the feasibility of me getting hired as a copywriter. After all these years, it was something that still fascinated me. Plus, it would put me back in the type of collaborative environment I thrived off of in my Chicago office.
Finally there was a copywriting need at the same time I was looking and I accepted it. I'll start work as an official agency Copywriter in a few weeks and I am very excited. Though I am sure to have the passing feelings of inadequacy from not having a traditional copywriting background, this has been a long time coming and I know I deserve it. I know I can do it. I never needed a reason to dress like Peggy Olson (or rewatch Mad Men for that matter), but now I get to do both.